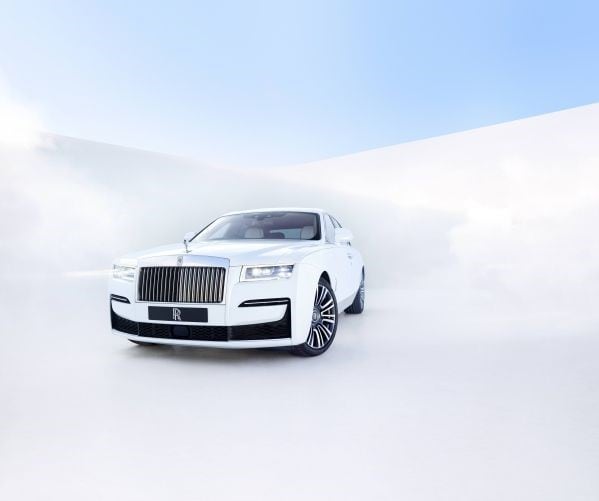 To the naked eye, the recently unveiled 2021 Rolls-Royce Ghost rolls with that iconic Ghost-like vibe: It's still embracing a Spirit of Ecstasy insignia. It weighs roughly the same as the outgoing model. It comes with rear-hinged coach doors with power-closing functionality. And it sports a rectangular frame that screams, "Hey, I'm a Rolls-Royce!"
But the second-generation Rolls-Royce Ghost enters the game as a ghost of its former self. (That means it's built all-new from the ground up.) Take a closer look and you'll see that it's a larger, wider luxury car that sits atop a modular Architecture of Luxury platform and features a fully reimagined and refined cabin. It's the most technologically advanced Rolls-Royce yet – and, yes, its coach doors now include power-opening, garnering many a hallelujah from the choir of Rolls-Royce loyalists.
Face it: You want to know more. Here's what you'll find when you get behind the wheel of the new Rolls-Royce Ghost.
A 6.75-liver Twin-Turbo V12, At Your Service.
Like a true dead creature screecher, the new Rolls-Royce Ghost is an absolute Unit, with a capital "U." Replacing the outgoing model's 6.6L engine is a fiendishly fervent 6.75-liter twin-turbo V12 that makes 563 horsepower and 627 lb.-ft. of torque at just 1,600 rpm – the same powerplant found inside the Cullinan. With that twin-turbo-12, the 2021 Ghost can break the 60-mph mark in just 4.6 seconds, and reach a top speed north of 150 mph.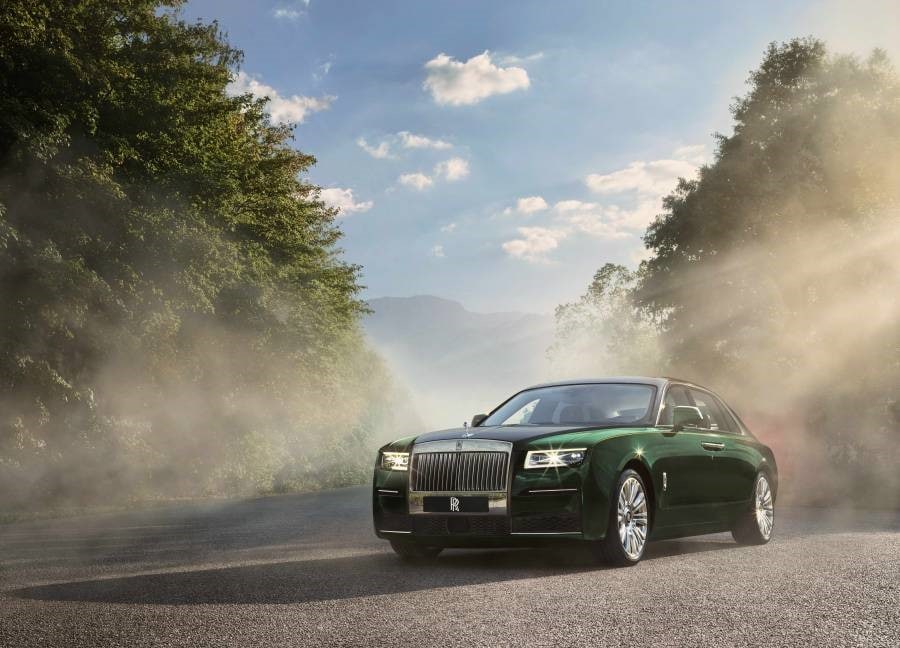 All-wheel-steering and all-wheel-drive systems only enhance Ghost's ride quality. With them, Rolls-Royce's Ghost is as close to a Flying Dutchman as you can get without the actual capability of flight (or the ethereal mist). The addition of an 8-speed transmission – a first for a Rolls-Royce sedan – is an extra cherry on top of this uber-luxurious sundae; it utilizes satellite feed to aid in and change to the optimal gear based on location. (This is the point at which you do your best Keanu "Whoa.")
The Sound of Silence.
Unlike a dead creature screecher, however, the latest Rolls-Royce Ghost is creepy-crawly silent. There's no cacophonous engine noise or window-rattling heard from inside the cabin; instead, you're treated to a serenely quiet ride, even with the V12 pushed to its limits.
Ghost's so-called Acoustic Engineering team went to great lengths to ensure this was the case, modifying everything from the car's aluminum architecture to its actual interior forms. To better insulate the cabin, a double-skinned bulkhead was added to the mix. About 200 pounds of sound-absorbing materials were plastered around the vehicle, including the roof, power-closing coach doors, wheel wells and windows. The new Ghost Rolls-Royce was deemed too quiet, in fact, and each component had to be perfectly tuned to create some kind of ambient soundtrack before its debut. (The human brain easily goes cuckoo when presented with the surreal, we suppose.)
Experience Rolls-Royce's Post-Opulent Ethos.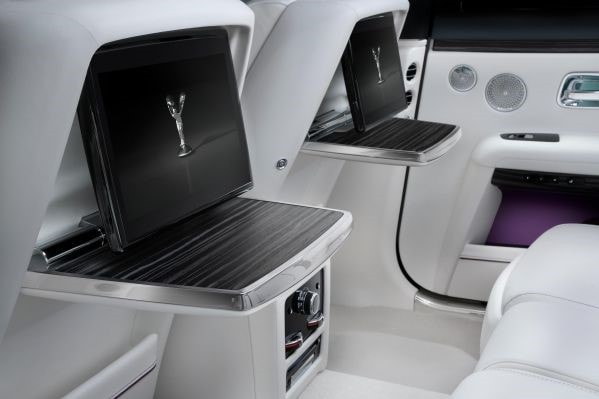 Those changes didn't affect the Ghost's overall "Post Opulent" interior design – it's a minimalist's dream. You've got natural, open-pore wood accents replacing the older Ghost's contemporary glisten and gloss. A MicroEnvironment Purification System is included to filter outside contaminants (aka. "stank") and produce a more pleasant cabin aroma. Instead of touch-and-swipe-and-do-something controls, the Ghost uses rotary knobs to control heat and air conditioning. And to ensure you know what you're driving, there's a nifty new "GHOST" badge, surrounded by over 800 tiny LEDs, planted on the dash.
But don't read into Ghost's minimalist appearance as being non-luxurious. The new Ghost may be the most opulent and best Rolls-Royce car yet. It comes with in-dash navigation, a large touchscreen with infotainment, Wi-Fi, and a splendid 18-speaker Bespoke audio setup. In the back, the 2021 Ghost sedan features massaging seats, an infotainment-integrated rear entertainment system with 2 screens, a champagne chiller box, and more legroom than you can shake a stick at.
If you decide to go with the Ghost as your new Rolls-Royce, definitely grab one with its available headliner, which simulates the Milky Way; it features hundreds of LED lights that make you feel as if you're navigating space, exploring star after star.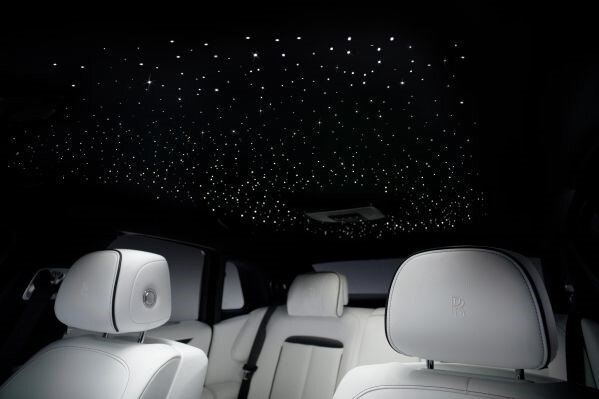 Ready to learn more or build your Rolls-Royce Ghost in Miami? Punch the numbers "786-577-5228" into your mobile and connect with a salesperson at our Miami Rolls-Royce dealership. We'll give you all the details about the Ghost and help you customize and finance your new luxury sedan.