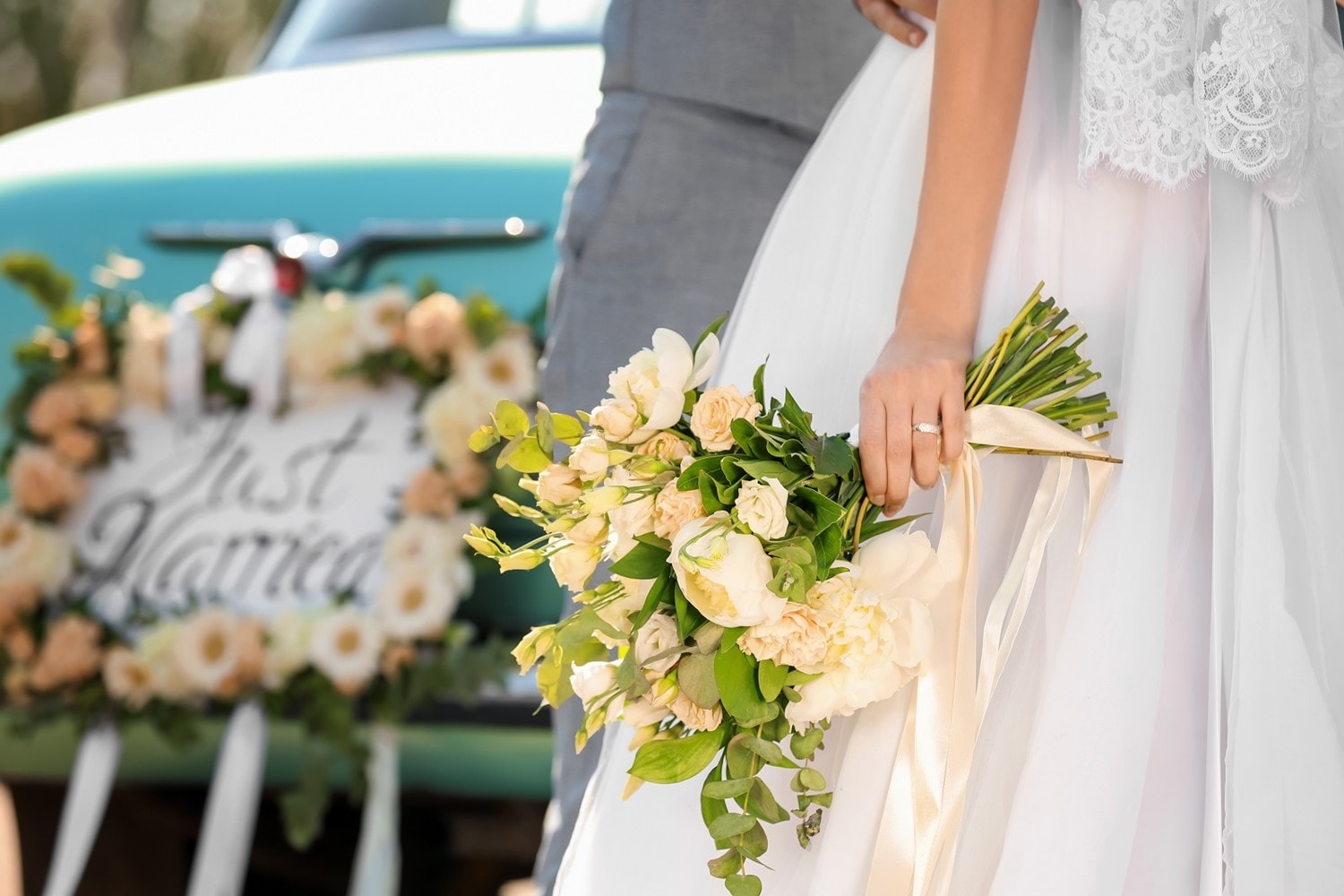 Forget about tying tin cans behind a wedding car ("just married" cans might not even be legal!). Skip the boring flower garlands, wreaths and ribbons. Ditch those blah wedding car bows and lacey tulle. While they may be traditionally beautiful, they aren't exactly special or unique. For a truly memorable send-off, you need some memorable "just married" car decorations that grab everyone's attention.
Let's get your creative juices flowing. Whether you're decorating for your own post-nuptials or looking for wedding car design ideas as a bridesmaid or groomsman, try one of these on for size.
1. Guest "Doodle" Book
Instead of having a standard guest book, let everyone write their own unique messages, using liquid chalk or glass pens, on the car windows. These can be words of wisdom, love sonnets, or simply fun doodles. To each their own, right?
(Tip: Before the newlyweds make their getaway, someone should take photos of all the messages!)
2. Sticky Notes
If the "doodle" book doesn't sit well, you can also choose to have people write their messages on sticky notes, then transfer them to the wedding car before the lucky couple dashes off to live happily ever after. This is a great idea for bridal car decorations, too.
3. "Just Married" License Plate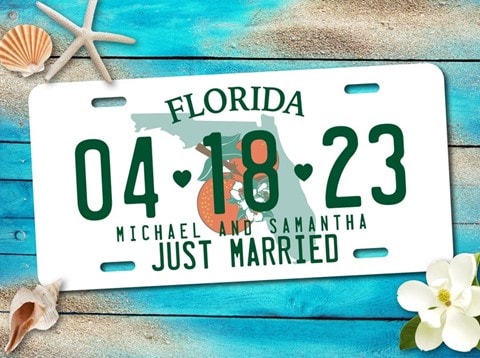 Source: PaperSoPrettyGifts  
Personalize your wedding getaway car with a custom license plate for newlyweds. Add your marriage date and names, then detach and store the vanity plate as a keepsake once your honeymoon's over. (Be sure to affix your legal license plate in the rearview mirror!)
Here's a cute option from Etsy seller PaperSoPrettyGifts. But feel free to browse other newlywed or marriage license plates on sites like Etsy, Zazzle, and Café Press.
4. #Wedding Hashtags
Create a special hashtag for Twitter, Instagram, Facebook or any other social media platform you prefer. This hashtag should represent the honeymooners' perfect day, so brainstorm and make it count!
Using whatever form of decoration you prefer – washable glass pens, liquid chalk, laser-cut signs, peel-off stickers or decals, etc. – add that hashtag to your wedding car of choice. People who attend the wedding or spot the newlywed getaway car on the road can snap and post photos along with that hashtag (or simply send out some peace and love vibes, Ringo style).
Need ideas for a wedding hashtag? Don't mind if we do…:
#BramanWedding2022
#JackAndSally4Ever
#FinallyTheBramans
#MeetTheBramans
#NewlywedChooChoo
#TeamBraman
#JackAndSallyGotMarried
#JustDidIt
#MrAndMrsBraman
#CheersToTheBramans
#JackMarriedSally
You get the idea. This is your chance to be creative with your DIY "just married" car decorations!
5. Gigantic Cake Topper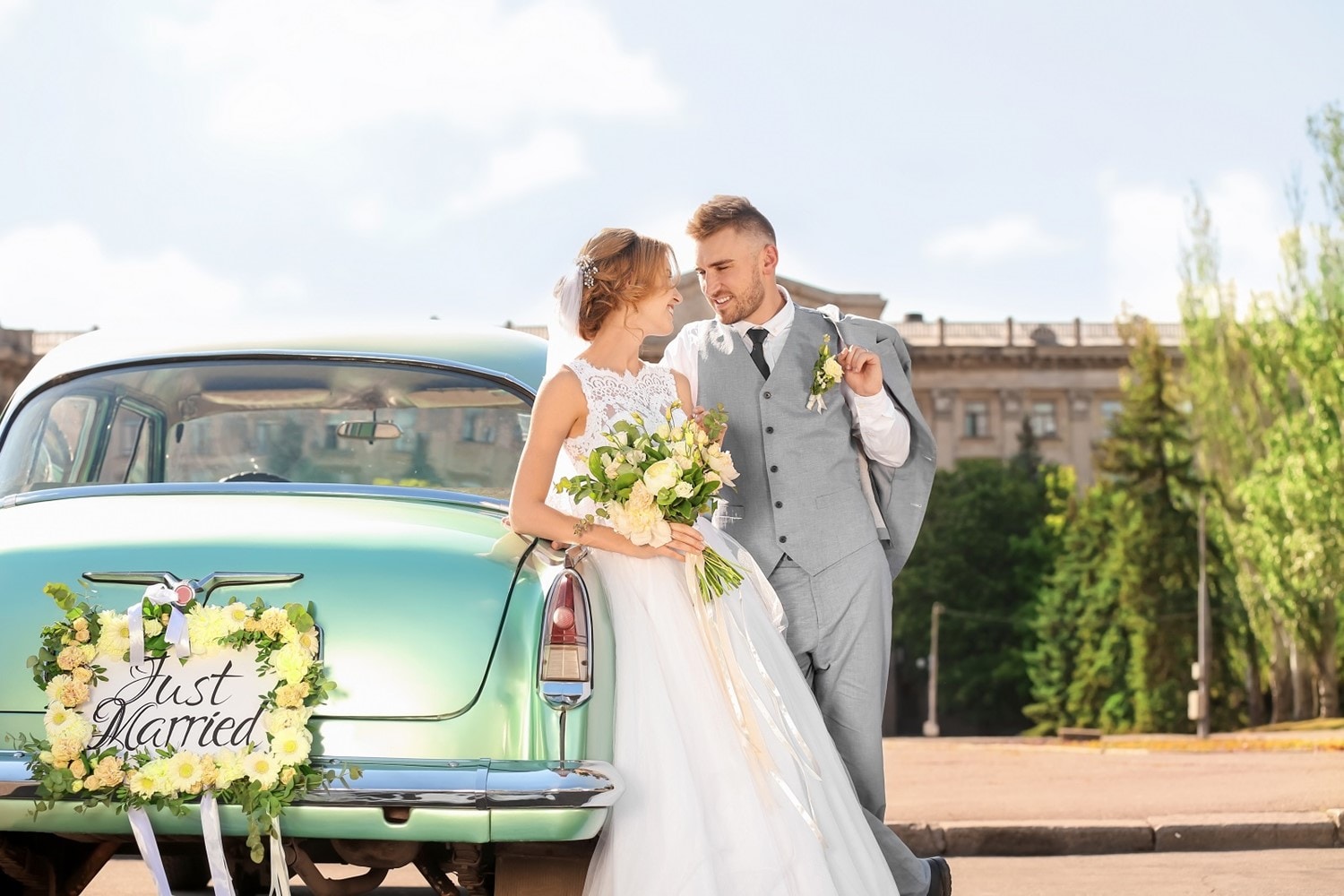 Need a funny "just married" car idea? Pay a company or crafter to replicate the bride and groom's cake topper, only make it about 1000% larger! Add that supersized cake topper decoration to the roof of the wedding getaway vehicle. It's best to use soft, lightweight material, otherwise you may end up damaging the paint or sweating through your cummerbund trying to hoist and fasten it.
6. Up Balloons
Dress up the wedding getaway car like Carl Fredricksen's house from the Pixar film Up. You don't need a zillion balloons to capture the love of Carl and Ellie in car form, but they should definitely be colorful and… bulbous. Bonus points if you opt for the biodegradable kind!
(Don't worry about the car flying off. It would take approximately 70,000 large balloons (and over $80,000 of helium) to lift a 2.5-ton Rolls-Royce Phantom off the ground.)
Get the Best Wedding Car at Rolls-Royce Motor Cars Miami
You deserve the best on your big day – you deserve a Rolls-Royce. Visit our Miami luxury car dealership at 2060 Biscayne Blvd to receive a quote on your perfect wedding getaway vehicle. We can help you customize a Rolls-Royce Ghost or Phantom, or match you with a pre-owned exotic car for sale. Your wish is our command.
Call our Rolls-Royce sales team at (786) 577-5217 today!