With the popularity of private aviation continuously rising, being clued up on the jet, you're going to charter is essential. While comfort, speed and cost are among the leading aspects to consider, the range is equally important. After all, is there any point in flying at top speed if you need to land halfway through your journey to refuel?
Measured in nautical miles (nm) – the range is how far a plane can fly. If you regularly travel worldwide, the range should be at the top of your priority list when choosing a private jet. A plane's maximum range will be dramatically affected by various factors, including onboard weight, fuel capacity and wind conditions.
We rounded up the list with the longest-range private jets in the world in 2022 and presented all the extra treats you can expect onboard.
1. Boeing Business Jet 777X
Launched in late 2018, the twin-engine Boeing Business Jet 777X is the longest-range private jet on the market, entirely elevating the range expectations in the private aviation industry. Capable of flying over 11,500 nm before needing to refuel – even with 75 passengers on board – the impressively long range allows the aircraft to fly across the world without stopping halfway. With a 302 m2 cabin, the BBJ 777X has scope for virtually unlimited customisation, allowing the aircraft to become an extension of your home rather than just a means of transport. 
2. Boeing 787 Dreamliner VIP
Entering our list at number 2, Boeing 787 Dreamliner VIP is not your usual business jet. It can travel over 9,590 nm straight and can easily accommodate a private party of up to 335 people or 40 passengers in different arrangement. The interior features high-domed ceilings, a full-size kitchen, and hardwood floors, which should be kept in mind while thinking about this plane. Furthermore, the Dreamliner VIP can also seduce passengers with its elegant main lounge, the luxurious master suite, that comes with an en-suite washroom, or even the guest cabins.
3. Bombardier Global 8000
With a range of 7,900 nm and a top speed of Mach 0.925, the Global 8000 is the furthest travelling of Bombardier's business jets, if still lagging behind Boeing's private offerings. It's an aircraft for faster connections. It offers the possibility to travel around the world with no or very few stopovers. 
The aircraft has been built with passenger comfort and productivity in mind. The Global 8000's interior boasts three individual suites, which can be configured to suit personal tastes and uninterrupted connectivity. It ensures that no minute of passengers' vital working time is lost when travelling worldwide. 
4. Bombardier Global 7500
The Bombardier Global 7500 can travel 7,700 nm non-stop, which at one point was the longest range for any private jet – until Boeing flexed its muscles. This range allows for travel between major cities, such as Singapore to San Francisco or Miami to Dubai.
While the jet has only 200 nm of extra range compared to the next aircraft on our list, the size really differentiates those two private jets. The Global 7500's cabin is almost 2 m longer than the Gulfstream G650ER, which (depending on interior configuration) could make a significant difference, and you could choose between an extra office space or a washroom. Although this may seem menial on solid ground, this additional space will make a meaningful difference when flying non-stop halfway across the globe.
5. Gulfstream G650ER 
For a long time, Gulfstream was considered the gold standard for long-range private jets, but the competition knocked off the American manufacturer from the top spot. 
Nevertheless, this doesn't mean that Gulfstream has been entirely banished from the long-range private aviation game. As of late 2020, the Gulfstream G650ER, which features a Rolls-Royce engine, is still among the longest-range private jets on the market, with a maximum distance of 7,500 nm. Also, the plane brags with other luxury features that continue to make it the first choice for frequent fliers.
6. Gulfstream G550
The Gulfstream G550 is a significant upgrade over the Gulfstream V. It's a stunning private jet that can reach a 6,750 nm range. If you want more speed, the jet's Rolls-Royce BR710 C4-11 twin engines will help this jet get a Mach 0.885 highest speed effortlessly. It's easy to feel impressed when you know that passengers aboard this plane could board in London and reach Tokyo in just under 11 hours. This private jet also provides the most luxurious interiors and travel comfort. A Honeywell Advanced Flight Deck Display Suite makes travelling for 19 passengers incredible.
7. Gulfstream G600
Next on our list is Gulfstream's G600 which is able to travel 6,500 nm before needing to refuel. It's also capable of reaching a breath-taking top speed of Mach 0.925. The G600 allows up to 19 people aboard, including the flight crew. It offers dedicated sleeping areas that will enable passengers to rest and take a proper nap before reaching their final destination. Additionally, this long-range jet only requires about 5,500 feet to take off, which is beneficial because it requires a smaller distance to lift off than most other jets available on the market.
8. Dassault Falcon 8X 
The Falcon 8X is the latest business jet from French aviation brand Dassault, with a total range of 6,450 nm. As one would expect from this renowned company, there were no compromises involved with this jet. Thanks to overall design enhancements and superior aviation technology, the 8X is equally as fuel-efficient as its predecessor – Falcon 7X. We must mention that fuel efficiency was a priority for the Dassault engineers. The other comparable benefits of the Falcon 8X also shouldn't be ignored. Its smaller size allows it to take off and land at the world's smaller airports, such as London City.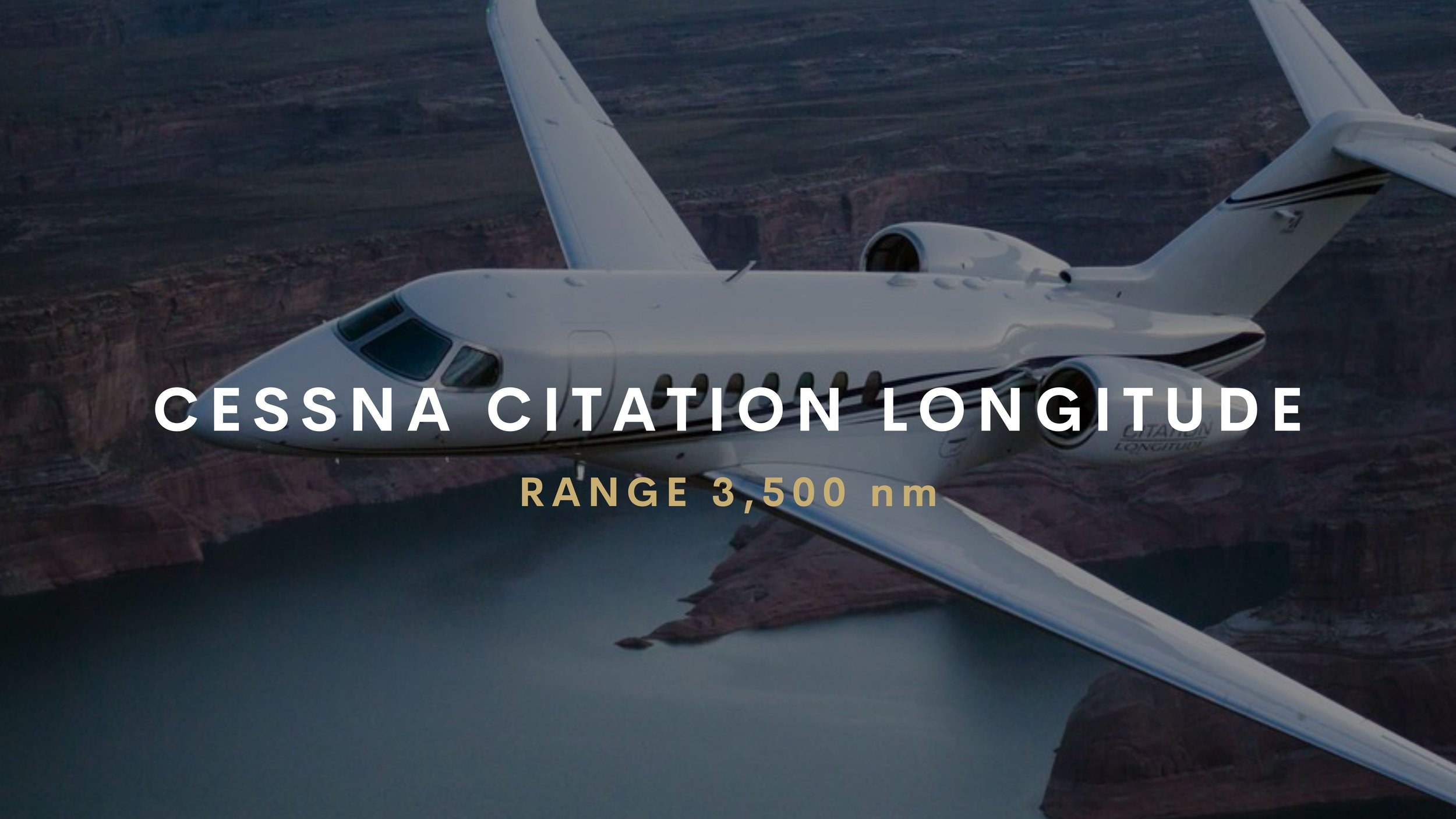 9. Cessna Citation Longitude 
Cessna's famous business jet can fly for a total of 3,500 nm, relatively less than other planes on our list, but it's still a transatlantic range, which should be more than enough in many situations. Looking like the perfect mid-size private jet for coast-to-coast flights, Cessna's Citation Longitude offers a luxurious flying experience for up to 12 passengers.
The top speed doesn't necessarily look impressive, but this jet is about efficiency and comfort. Moreover, this plane interior shows off a stunning design theme, with high-quality earthy tones furniture that creates a relaxing atmosphere during your journey.
Our SHY Aviation experts are available 24/7 for your private flights. Do not hesitate to visit our online quote to obtain a price estimate for your next journey.