When considering what kind of companies uses private jets the most, large businesses and influential company executives are definitely listed at the top of the list.
As a leader in private jet and helicopter charters, SHY Aviation helps its clients from various industries to provide safe, comfortable and convenient travel. Companies that choose to fly with SHY enjoy special perks, including maximum efficiency, high-speed Wi-Fi, flexible seating and curated catering. 
Read further and learn about four categories of companies that most commonly use private jet charter services and check whether your organisation is well-suited for flying private.
Large Companies
Of course, it's less surprising that the world's largest companies would make the list of businesses that charter private flights.
Many reasons can be listed as to why those significant market players take advantage of private travel – but operational efficiency is vital. By efficiency, we mean the ability to fly at their own pace and schedule to airports that are often inaccessible by commercial airlines. 
Although many reasons can account for why those businesses fly privately so often, the main reason is operational efficiency. When they travel privately, they can be confident that their flights will depart and arrive on time while maintaining high safety standards. 
Current European disruptions in commercial flight schedules and unexpected flight cancellations significantly influence businesses' willingness to travel privately. Increased efficiency in private flights allows these companies to fly at their own pace, according to their schedules. This extra convenience ensures employees make it to their meetings and still be back home in time for dinner with their families. This way, private jet travel optimises the company's travel funds and enables them to get jobs done quicker and more effectively.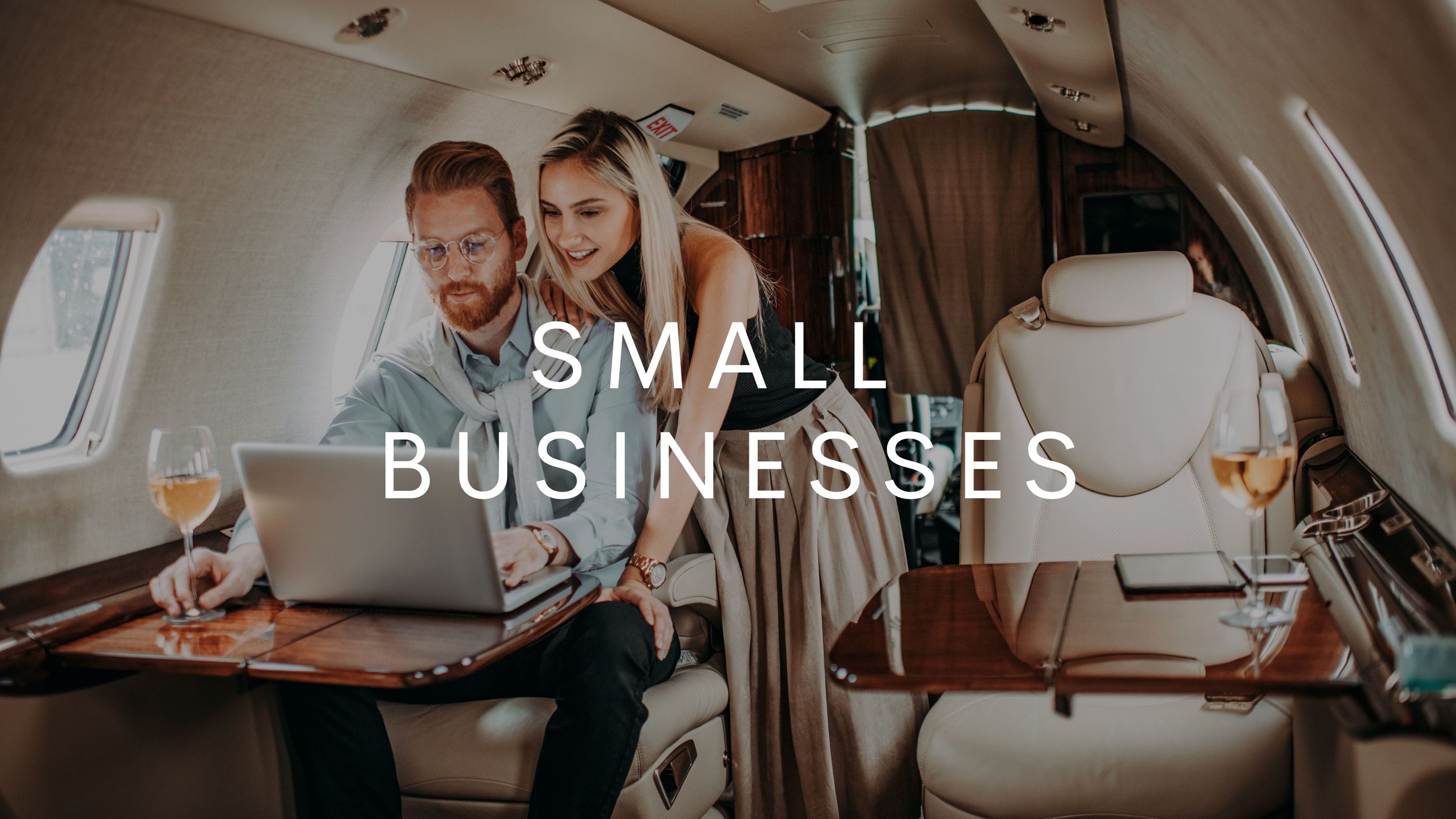 Small Businesses
Private aviation isn't just for large companies owning private jets. It's equally suitable for smaller businesses. A National Business Aviation Association report found that small and mid-sized companies account for around 85% of American business flights. Interestingly, as companies got larger, the frequency of private jet usage decreased. 
Small companies can be drawn to private aviation because it boosts their productivity, saves employee time, accelerates transactions, protects intellectual property and improves customer service. Flying with private jets enables small businesses to safely transport tools and materials that sometimes can't be carried by commercial airlines. With private jet travel, small companies can choose when their flights depart and schedule them around their production timetables.
Business CEOs
Along with the companies presented above, a broad group of CEOs and other corporate executives use private jets for their travel for similar reasons. Additionally, the privacy that private jet charters provide overtakes all other methods of travel (including taking the company jet!).
Numerous CEOs and other corporate executives take advantage of private jet travel for many reasons. Specifically, the privacy offered by chartering a private jet is even better than taking the company's jet because of the reduced identifiability of charter flights. By keeping any CEO's air travel confidential, companies can secure various secrets such as location plans for a new headquarter. 
The privacy and lack of traceability associated with private jet charters are invaluable when conducting important business deals, recruiting top talent, going through mergers and acquisitions or embarking on any other highly sensitive business venture. Any CEO or executive handling one of these situations would be wise to depend on private aviation.
Luxury Travel Companies
For many reasons outside the usual convenience and time-saving factors, luxury travel companies often book a private jet charter for their clients. People willing to spend on 5-Star hotels in exotic locations aren't necessarily thrilled at the idea of flying commercial. Additionally, some of the best luxury holiday locations are easier to reach in a private jet since the localisation of some commercial airports is farther away. Hence, private charter flights can take travellers directly to their destination. On top of that, private aviation airports might be more on the outskirts of major metropolitan areas, meaning there will be less traffic for travellers and more time to enjoy their holidays. 
Conclusion
Companies that have already elected to fly privately don't need to be convinced that private aviation travel is more efficient and convenient compared to commercial flights. The more prevalent discussion would be which private jet company should they use to provide the jet charter to complement their travel schedule.